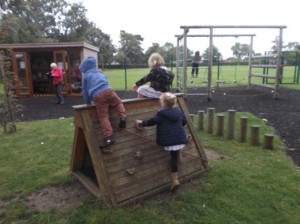 York Road Nursery School offers all places to start in September; this enables all the children to benefit from a full year in nursery as they will transfer to their primary schools in the September the following year.
York Road Nursery sessions are for 3 hours, 5 days per week either am or pm, term-time. We believe it is important for children's stability and the continuity of their education to provide regular 3 hourly sessions.
Children join Nursery during the academic year of their 4th The current admission procedures are;- During the Spring when your child is around the age of 2 ½ -3 ½ years – providing you live in Hertfordshire and you are registered with a GP, you should automatically be sent a letter from County advising you to 'choose a Nursery place' for your child. It is important that you ensure you follow the instructions in making your application and adhere to the given dates. The Local Authority anticipate all parents will make on-line applications. If you need any help to apply please contact us or the Children's Centre.
Once the letters have been sent out, please contact us for dates as we arrange a Saturday 'open morning'  for children and parents to come and explore and experience the nursery. This is a drop in session there is no requirement to book for the open morning, so please do come and go as you wish. In addition we will also arrange a number of  viewing appointments for prospective parents to come and visit York Road, please telephone or email us to find out dates.
For York Road Nursery School applications – once you have made your choice should you have any particular session request or any information that you wish to inform us about, you should do so at the time of applying by writing a separate letter to the Headteacher. Requests for a particular session will be kept on file, and taken into consideration when writing to inform you of your child's start date/session. We anticipate this to be at the end of May/beginning of June. Please be assured that we will always endeavour to meet with your particular needs/request, – but this is not always possible!
Other useful contact details:-
HCC Admissions:- Customer Service Centre 0300 123 4043
Website:- hertsdirect.org – for application details.