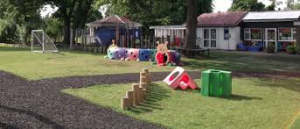 We are a maintained nursery school providing a well balanced early years foundation stage curriculum using some High Scope philosophies. Children attend our nursery from all over Hitchin, the villages and outside the area. We provide nursery education for up to 120 children between 3 and 4 years old.
The children attend for a half day session five days each week term times. Timings are 9.00am – 12.00pm or 12.30 – 3.30pm.
We have 8 groups in the morning nursery session and 4 groups in the afternoon sessions.
When your child starts at nursery they are allocated to a key teacher group in one of the colour areas as their home base. They will remain in this group throughout their time at nursery, forming good relationships with their adult and group peers.
You will have access to a secure online reporting tool called "Tapestry". Once logged into Tapestry you will see posts from your child's Key Teacher and other Nursery / Yorkies staff. These posts will consist of  observations, photographs, videos, and assessments. You can also upload, onto Tapestry, "magic moments" from home or share news time information, as a way of further communicating with us. The children also have a "My Book", made up of pictures of their family, special pieces of work, holiday pictures and consultation sheets. These are kept in your child's home area and they have access to them at anytime.
We have an 'open door' policy, where we welcome you to discuss concerns, questions or observations you have .The beginning and end of sessions are the best times for this.
We work in close partnership with York Road Children's Centre which is based on the school site. Please see their website for more information.